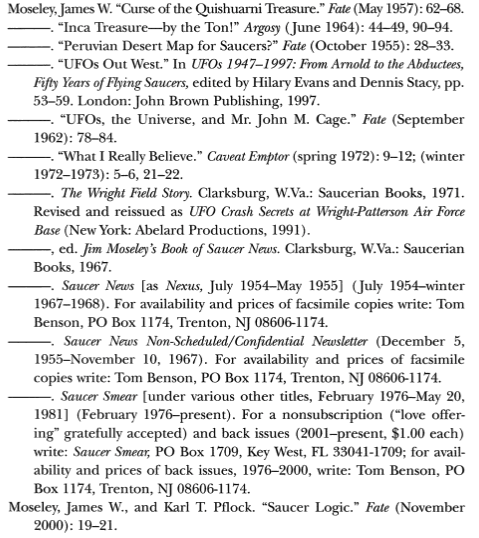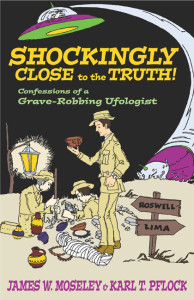 Jim wrote his UFO memoirs  with the help of Karl Pflock:  "Shockingly Close to the Truth! is the first and only comprehensive tell-all history of ufology from two men who have been at the center of this cultlike movement for close to half a century. James W. Moseley conveys the fun he has had over the years pursuing tall tales and purported evidence of visitors from outer space. As the creator of the newsletter Saucer Smear the source on the follies, foibles, fads, and feuds of ufology. Moseley has the inside scoop on the amazing world of serious UFO sleuths and wigged-out saucer fiends. His co-author, Karl T. Pflock, has been tracking reports of unidentified flying objects for close to half a century and has written the most thorough investigation of the Roswell incident ever done."
Shockingly Close to the Truth: Confessions of a Grave-Robbing Ufologist by James W. Moseley and Karl T. Pflock (Jul 1, 2002)
Still available at amazon.com, and also from the publisher, Prometheus Books: http://www.prometheusbooks.com/index.php?main_page=product_info&cPath=43_155&products_id=1025.
Bibliography of Jim's articles and books (incomplete)
(Click to enlarge.)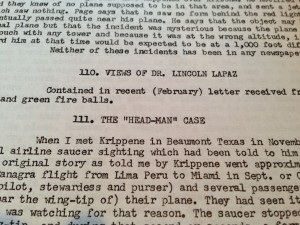 Head-Men From Outer Space (proposed title for unfinished manuscript of 1953-1954 flying saucer investigation partially used in Wright Field Story & Shockingly…)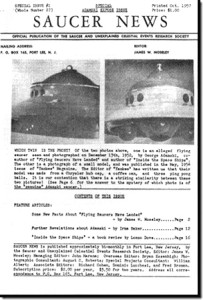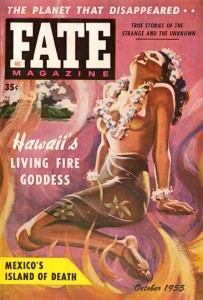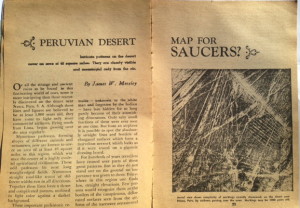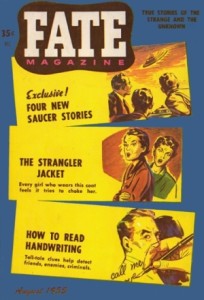 http://www.fatemag.com/are-the-saucers-made-on-earth/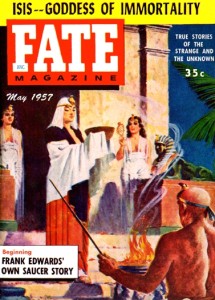 FATE Magazine – May 1957 "Curse Of The Quishuarani Treasure" by James W. Moseley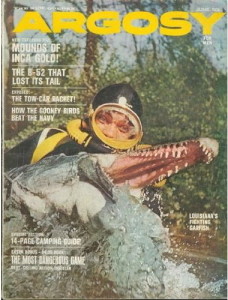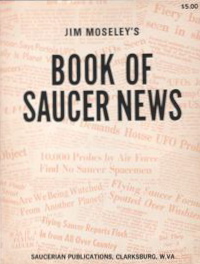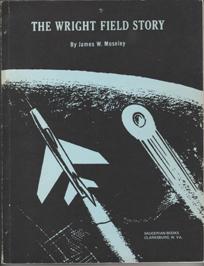 The Wright Field story, by James W Moseley Saucerian Books, 1971
Ghost written by Gray Barker, based on Jim's unpublished manuscript.
Caveat Emptor (Date, Issue unknown- late 80s?) "I Go To See Mr. Ed" By James W. Moseley (Gulf Breeze UFOs)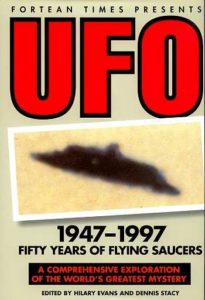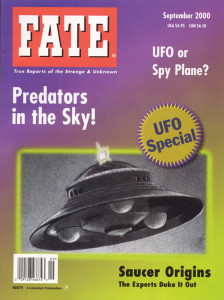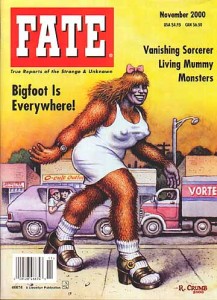 FATE Magazine Nov. 2000 with Karl Pflock
"Saucer Logic" by Jim Moseley and Karl Pflock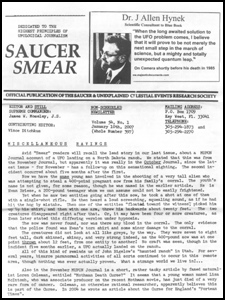 Link: Saucer Smear Archive (partial) 1994-2012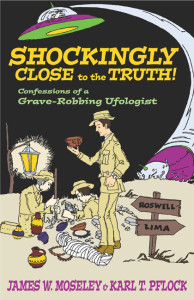 Shockingly Close to the Truth: Confessions of a Grave-Robbing Ufologist by James W. Moseley and Karl T. Pflock (Jul 1, 2002)