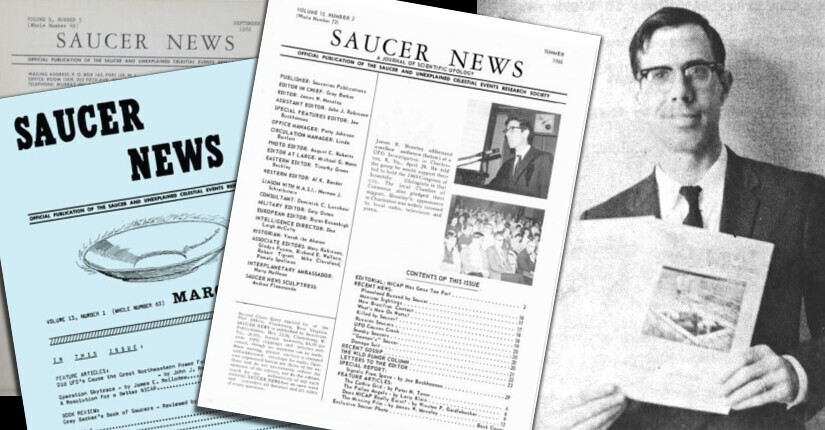 First, a couple of existing resources, then the latest Saucer News.
The J. Allen Hynek Center for UFO Studies (CUFOS) hosts a collection of "Early UFO Periodicals." Of key interest to Jim Moseley mavens, the first ten issues of Saucer News are included, then known as NEXUS.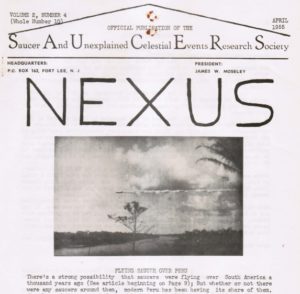 But wait, there's more!
There's also a collection of early issues of  Gray Barker's Saucerian: https://files.afu.se/Downloads/?dir=.%2FMagazines%2FUnited%20States%2FSaucerian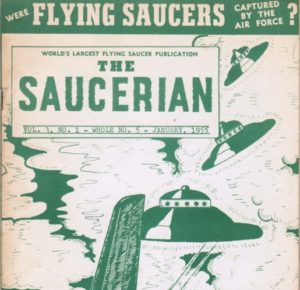 Jim Moseley and The Saucer News Years
Rick Hilberg became active in ufology in 1958. A short bio of Rick from MUFON of Ohio presenting their "Lifetime Achievement" Award to him at the 2015 Conference.
Isaac Koi recently shared the news that "I uploaded 10 books/booklets written by veteran ufologist Rick Hilberg (USA, active in ufology for the last 60 years). Another 12 of his books/booklets, which he kindly donated to the [Archives for the Unexplained] AFU in Sweden, have been scanned by the AFU… so they are now freely available online (with Rick's permission) as searchable PDFs.
Rick Hilberg published UFO Magazine and Flying Saucer Digest, and many booklets collecting the work of others, including his friends Jim Moseley and Gray Barker.
Jim Moseley and The Saucer News Years was published in April 2007. Rick Hilberg's introduction explains how he chose articles by Jim and various authors from Saucer News from 1954 to 1967:"The selection of articles and features…were chosen to give the reader some sense of just what the UFO field was like during those dynamic years of Jim's editorship."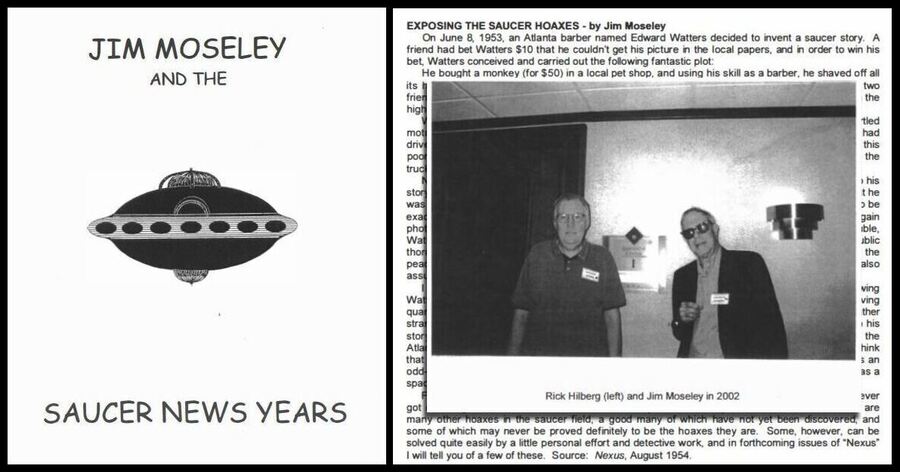 There was also a few paragraphs from Moseley himself explaining how his views on UFOs had changed over the years:
"I became convinced, as I am now, that the saucer mystery involves genuine unknown phenomena, but (for complicated reasons) no space ships from other planets. The saucers, which definitely have a paranormal aspect, are somehow a permanent part of the Earth's environment. In some way or other, they are related to us! Hopefully, some day in the future, science will find the answer."
Articles contained:
Exposing the Saucer Hoaxes – by Jim Moseley, Nexus, August 1954.
Flying Saucers: Fact and Fiction – by John P. Bessor, Nexus, November 1954
Mystery on the Peruvian Desert (Nazca Lines) – by Jim Moseley, Saucer News, April 1955
Recent News Reports (1955), Saucer News, Oct. – Nov. 1955
What on earth Were They? – by Harold T. Wilkins, Saucer News, Dec. – Jan. 1955 – 1956
The Al Bender Story – by Jim Moseley, Saucer News, Feb. – Mar. 1956
UFOs and Unnatural Clouds – by Frank Reid, Saucer News, Aug. – Sept. 1956
Recent News Stories (1957), Saucer News, Oct. – Nov. 1957
Recent News Stories (1957), Saucer News, Feb. – Mar. 1958
The Case of the Crashed UFO – by Bob Barry, Saucer News, Oct. – Nov. 1958.
Humanoids and the Mars Saucer Cycle – by Lonzo Dove, Saucer News, March 1962.
My Interview at Wright-Patterson – by Jim Moseley, Saucer News, September 1962.
Reconsidering the "Little Men" – by Keith Roberts, Saucer News, March 1965
Did I Contact a Space Man? – by Gray Barker, Saucer News, Winter 1966 – 67
The UFO Secret: Answers are on the Way – by John Keel, Saucer News, Fall 1967
Recent UFO Sightings (1966), Saucer News, Winter 1966 – 67
The collection is an excellent look at UFO history in the making, and the culture and personalities that built the house. Moseley was granted a visit to Project Blue Book headquarters and was given a tour of their operations by Col. Robert Friend in March 1962. It stands as one of the best inside looks at the scope of the Air Force's UFO investigations, "My Interview at Wright-Patterson."
A Gray Barker Reader
Rick Hilberg also published three collections of Jim's friend Gray Barker, from his column, "Chasing the Flying Saucers" originally published in Ray Palmer's Flying Saucers magazine.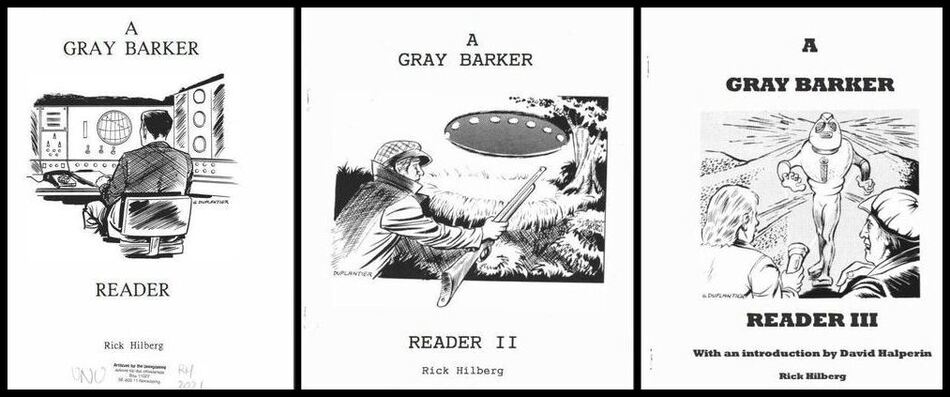 Check the AFU's collection of other book and periodicals by Rick Hilberg and others: AFU Downloads – Directory and file listing