Interview: James Moseley  Saucer Smear "Commander" and Publisher
(Excerpts from Wake Up Down There! The Excluded Middle Collection )
copyright Gregory Bishop 1994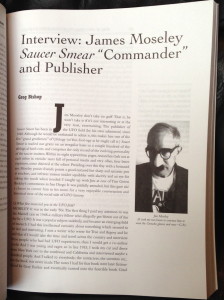 Jim Moseley don't take no guff. That is, he won't take it if it's not interesting or at the very least, entertaining. The publisher of Saucer Smear has been in the UFO field (by his own admission) since 1948. Although he would be embarassd to admit it, this makes him one of the few "grand gentlemen" of Ufology (or You-fool-ogy as he might call it.)
Saucer Smear is mailed out gratis on an irregular basis to a couple hundred of the ufological hard-core, and comprises the only record of the evolving personality of the saucer-smitten. Within its eight typewritten pages, researchers lash out at each other in vitriolic rants full of personal insults and very often, four letter expletives, some directed at the editor. Presiding over this fray with a bemused eye, Moseley praises friends, points a good-natured but sharp and sarcastic pen at attackers, and referees intense insider squabbles with alacrity and an eye for raking the muck when needed.
Q: What first interested you in the UFO field?
A: It was in the early '50s. The first thing I paid any attention to was the Mantell case in 1948-a military fellow who allegedly got blown out of the sky by a UFO. It was a popular subject suddenly, and became an emerging field of research. I had this intellectual curiosity about something which seemed to be real and interesting. I met a writer who wrote for True and Argosy and he said that if I would take the time and travel across the country and interview these people who had had UFO experiences, then I would get a co-author credit. And I was young and eager, so in late 1953, I took my car and drove from New York out to the southwest and California and interviewed maybe a hundred people. And I talked to everybody; the contactees, the scientists etc., but the book was never made. The notes I had for that book were later fictionalized by Gray Barker and eventually turned into the horrible book Crash Secrets At Wright-Patterson Air Force Base. I had found out by then that there was actually a UFO field, and I met Gray Barker and others who were in it at the time.
So the next thing I did was to start my own zine, which was called Nexus, which was a stupid name, it means "a connecting link," but nobody knows that. Two other guys started that with me who were also living in New York at the time; Dominic Luchesi and August Roberts. August died last month, and Luchesi died several years ago. We started this and kept it going for a year, and then they dropped out and I changed the name to Saucer News and it stayed on a very small scale until 1954 when the "marsh gas" thing happened.
That marsh gas thing did more for me than anything else–(J. Allen)Hynek's marsh gas–he went to Michigan where there had been a few sightings of things. The most prominent ones were by some college co-eds. One thing was seen diving at a police car, and another was seen floating over some woods near a college dormitory. There were no marshes in that whole area. There was a premature press conference and Hynek was forced to do it. He didn't have an answer and didn't claim to have and answer. The Air Force put him on the spot rather unfairly. I ended up being very friendly with Hynek, and I liked him. So he was pushed to the wall and said that it might or could have been marsh gas. And then there were the T-shirts and cartoons, etc. just ridiculing him.
The whole country was excited about it then, and then Michagan Representative Gerald Ford got on it and promised a congresional investigation, which of course never happened, but it was a hot time for the topic. It was the biggest "flap" of its sort as far as public interest was concerned, and because of that, my circulation shot up literally overnight. I had this little one-room office in downtown New York where I worked all by myself hacking out this magazine, and was listed in the Manhattan phone book under "Saucer News." So when they wanted to talk to a local "authority", they called me, and I didn't know any more about the subject than the day before. But I was hot. I was on every news program in New York, since there were not a lot of other rivals around like there is now.
Q: What year was all this?
A: 1964. At this time there was a man in Boston with a radio and T.V. show named Bob Kennedy (not THE Bob Kennedy of course.) I appeared on his show a few times, and they were also working with speaker's bureau who booked Donald Keyhoe to speak about the saucer stuff. They also booked the college lecture circuit and Keyhoe was starting to charge too much. This is where I really stepped in some shit. Bob Kennedy gave my name to this bureau and since I hated Keyhoe anyway, this was the best luck of all. He was charging too much, so I started getting his gigs. I would have gone for free just to knock Keyhoe off the lecture circuit. (Stanton) Friedman hadn't come along yet, and he didn't push me off the circuit 'till years later. I did over a hundred colleges and got well paid for it for the time. Saucer News circulation shot up to about 10,000 for awhile, and I got on all kinds of shows, etc. I finally had to hire a staff to keep up, including Tim Beckley, who worked there for a couple of years. This was all because of the marsh gas! Then in the early '70s, Friedman came along and did to me what I had done to Keyhoe. Actually, he was vicious about it. He would find out which colleges I was lecturing at and call them up and try to get them to knock me off and book him. He had the degree and the beard and I didn't. The colleges kept calling me to inform me what he had been doing–sometimes more than once to the same places.
Q: What are some differences between the UFO scene now and how it was in the "early days?"
A: Well, in the '50s you had your classic contactees who met creatures who looked almost like us, if not better, and who were giving messages of sweetness and light, and save the environment and ban the bomb, and all this good stuff. But nobody sees anyone like that anymore in the last 20 years or so. Another thing was that they used to see little men getting out of the saucers, smaller than us, but sort of normal-looking. They were not described in the same way that these "greys" are–the height is the same, but the face is different. So, how come nobody sees these classic "little men" anymore?
Q: You perpetrated one of the most famous hoaxes in UFO history at the expense of George Adamski. How did that come about?
A: Gray Barker had a friend who's still alive now and begged me never to reveal his name, but at the time was a kid of 18 or 20, who's father was rather high in the State Department. He wandered into his father's office and stole some official State Department stationery, about six or seven different kinds. So, one night Barker and I got together at his place in Clarksburg, West Virginia and wrote six or seven different letters to people in the field. And the Straith letter was so-called because it was signed by R.E. Straith of the "Cultural Affairs Committee" of the State Department, and we deliberately made that part up because it didn't exist. There was a committee with a similar name, but Straith did not exist. We opened the letter "Dear Professor Adamski," which was flattering him because he wasn't a professor at all, he just made that up. And it said was in essence that "there are some of us here that know of your contacts and we are behind you all the way, but we cannot come out publicly to support you at this time. But rest assured that we are behind you in spirit" etc. That was the gist of the letter, and whether Adamski thought it was a hoax or not didn't really matter, since it was just what he wanted to hear. So he publicized it and after a few months the FBI came to him and told him to stop it. They told him it was a hoax and to stop saying that it was genuine. This was just what he needed, and he started crowing that the FBI had harassed him, and so that meant it had to be genuine. There were then two investigations by the FBI and the State Department. They went down and talked to Barker, since someone noticed that the typing on this letter was just like the ones he sent to all kinds of people. Barker got very paranoid after this and took the typewriter and broke it into many little pieces. Then he found where they were building a wall somewhere in Clarksburg, and dumped the pieces in. So, to this day that typewriter is buried in a wall somewhere in that town. Then Barker died in 1984, and I had warned him that if I outlasted him, I was going to confess, so I wouldn't embarass him anymore. So, after he died I put it in the next issue of Saucer Smear.
Q: Could you talk about your friendship with Gray Barker?
A: I think he was probably my best friend and used me as a sort of psychiatrist really. What's not generally known was that he was gay and died of AIDS. But in 1984 in Clarksburg, West Virginia, they didn't know that much about it, and they didn't cover it up, they just didn't recognize the symptoms. I've lived in Key West for ten years and I know a number of people who have died of AIDS and so I suspected at the time that's what he had died of.
He had wonderful sense of humor, and a sense of wonderment (which is a good word for him) about the UFO subject. He stopped being a "believer" very early on, but kept the sense of wonderment. What he got out of it was entertainment for himself, and the audience he wrote for. He thought of himself as an entertainer, not as a scientist or a person dealing in facts. There were "New Age" types long before there was a UFO field, and he knew this audience and what they wanted to hear, so he wrote books and published them as a book business. He also had a theater that he owned and operated, and he started out as a booking agent for films at theaters in the area. So, he was always in the entertainment field and thought of himself as an entertainer. He thought I was too serious, because I believed some of it, and still do, but he didn't believe any of it.
He wrote a poem that I have here with me, which is entitled "UFO Is A Bucket Of Shit," and I think that really summed up his feeling about the whole thing. He also wrote serious poetry. I would go down there a few times a year from New York, and we'd drink and bullshit and do hoaxes or whatever. He drank quite a lot, and didn't like to travel, because he would get very disoriented. I went to the Giant Rock convention in 1970 with him and a girlfriend of mine. There were a lot of psychedelic drugs floating around the Rock that year…
Here's "UFO Is A Bucket Of Shit":
UFO is a bucket of shit
Its followers: perverts, monomaniacs, dipsomaniacs
Artists of the fast buck
True believers, objective believers, new age believers
Keyhoe believers
Shushed by the three men
Or masturbated by space men
UFO is a bucket of shit
The A.F. investigated UFOs
And issued a report
Couched in polite language
Which translated, means:
"UFO is a bucket of shit"
Meade Layne is a bucket of shit
Lex Mebane is a bucket of shit
James W. Moseley is a bucket of shit
Richard Ogden is a bucket of shit
Ray Palmer is a bucket of shit
And I sit here writing
While the shit drips down my face
In great rivulets
Yes, they don't write poems like that anymore, do they? Thank God! So there you have it, a little sample of Gray Barker's poetry.
Q: You're obviously more interested in the people surrounding the UFO phenomenon, than in the UFOs themselves. Can you explain why?
A: There's no hope of solving the question. There's endless confusion and contradictory theories, so certainly the UFO field is real, whether the saucers are or not, and the people are real, and some of them are very interesting. I have more fun with the people, so I talk about personalities in my magazine. I don't print sightings, because everybody else does, or could, and you can find that anywhere. I just try to do something more interesting and more to my own personal taste.
Q: How much does the government pay you to keep all the UFO nuts fighting with each other?
A: They pay me exactly as much as they pay Phil Klass.
Q: Have you ever actually seen anything that you would qualify as unidentified?
A: In the course of 40 years I have seen a few things that I could not identify. The last one was in Gulf Breeze, in 1992. It was a light in the sky that was there for about four minutes. It might have been a flare, but I'm still not sure. Yeah, I've seen stuff that I couldn't identify, but so what? (laughs)
Q: How have your views of the UFO phenomenon changed over the years?
A: I went off on different tangents: first the secret weapon theory, then little men, then I got hung up on Mars for awhile–it seemed reasonable–what got me was the lines on the surface of the planet. But the camera can see what the eye can see, and it doesn't make it any more real. When you get enough resolution of course, that stuff disappears. Then Vallee and Keel came along, as well as J. Allen Hynek, and put forward the 4-D idea, and that's where I'm generally at now. The interplanetary idea is the least likely. If there is something going on along those lines, it's beyond our present understanding. I'm not totally agnostic, I do think there's something going on, but it defies scientific examination. You have to be able to repeat results experimentally, and how the hell do we investigate something that changes continuously? When we can summon a demon or poltergeist or spaceman at will, then we'll be much further along. We can't expect to solve everything overnight. People need answers right away, and if we don't have answers, they're invented. MUFON has invented the interplanetary theory, and that satisfies them.
Q: Will you keep Saucer Smear going for as long as you can?
A: As long as I'm alive and reasonably healthy, sure. My business takes hardly any of my time, and I really enjoy it.
 – – – – – – –
The complete interview can be found in:
Thanks, Greg for allowing the interview to be reprinted here, it's one of the very best.
Check out more of Greg Bishop's work at:
Greg Bishop at Radio Misterioso
The Excluded Middle website